Trying to find a veterinary facility for your Sphynx around San Antonio? Ahead of seeking a veterinarian, it is advisable to determine key choice demands. The ideal veterinarian center need to meet some significant conditions described hereafter
What are the Key Attributes of the suitable veterinarian medical center
An appropriate vet clinic must:
Locate not too far from your residence, within a 10-30 minutes drive
Be open 24 hours or open late, also for critical instances
Have sufficient staff that is able to offer high-quality attention
Be properly equipped. High-quality medical devices will guarantee the right-time and correct of the diagnosing your Sphynx pet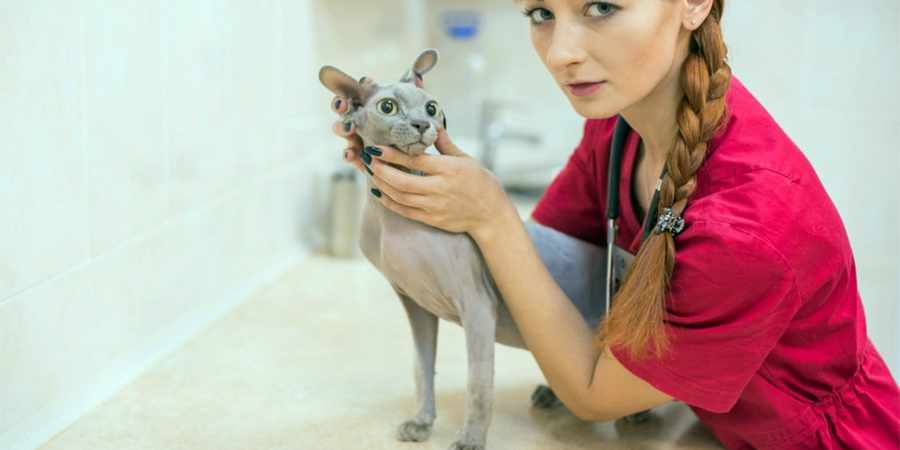 These tips can surely make your selection less complicated. Further to these common tips, read the article how to choose the best vet for a Sphynx Cat.
When you adopt a Sphynx kitten at a cattery positioned in San Antonio, demand the contacts of the veterinary who presently treats your breeder's cats. The benefits would be the following:
To start with, this veterinarian has already been acquainted with your Sphynx kitten, and it is always good.
Second of all, the Sphynx breeder may hand over the cats to a high-quality veterinarian only.
Besides, the breeder can suggest an excellent veterinarian clinic in your town.
Thereby, having adopted a Sphynx, you may be prepared for the visit to a veterinary hospital in your town.
Location is important
If you live in San Antonio, attempt to choose for your Sphynx a veterinary clinic in your area. This kind of choice will save the essential time in a crisis as well as reduce the delivery stress.
During the day or around the clock?
The ability to speak to a veterinary clinic anytime is needed, specifically in emergency scenarios when a Sphynx cat quickly gets sick. Most up-to-date vet hospitals are open 24 hours or open late to offer after-hours urgent treatment, as we indicated in our vet list. A lot of them take pets on weekends and holidays.
How to proceed in urgent cases
If you do not have a way to visit your permanent veterinary clinic for urgent situation assistance, find another one as fast as you are able to.
Choose a seek animal quickly to the veterinarian clinic in San Antonio, which may provide emergency aid right this moment. Keep in mind that there are few really dangerous cases for your Sphynx cat.
Business name
Alamo Hills Animal Hospital
City
San Antonio
ZIP
78209
Addr
1242 Austin Hwy Ste 102 San Antonio, TX 78209
Phone
(210) 804-2000
Hours

Mon 7:30 am – 6:00 pm
Tue 7:30 am – 6:00 pm
Wed 7:30 am – 6:00 pm
Thu 7:30 am – 6:00 pm
Fri 7:30 am – 6:00 pm
Sat 8:00 am – 12:00 pm
Sun 4:00 pm – 5:30 pm

Web site
alamohillsanimalhospital.com
Self Description
15 Sphynx cat critical, that need instant veterinary consultation and/or treatment:
Unrestrained hemorrhaging or bleeding that doesn't cease within a few moments
Changes in breathing, lack of breath or constant coughing and/or gagging
Inability to pee or pass feces (stool)
Blood in urine/stool
Just about any injuries to your cat's eye(s) or quick blindness
Ingestion of something poisonous
Lack of balance or convulsions
Lack of ability to move
Cracked bones or serious lameness
Severe panic and anxiety
Heatstroke
Uncontrolled vomiting or diarrhea (more than two episodes in 24 hours)
Refusal to drink or eat for 24 hours or more
Unconsciousness/coma
Infiltrating injuries, heavy lacerations or punctures
Some other scenarios permit you to plan your trip to the veterinary center more or less without a hurry.