Looking for a veterinary clinic for your Sphynx cat around Sacramento? Ahead of seeking an animal medical practitioner, you must discover key collection specifications. The right vet center should match some significant requirements described below
What are the Significant Attributes of the right veterinarian medical center
An acceptable veterinary clinic must:
Locate close to your residence, inside a 10-30 minutes drive
Be open 24 hours or take until late, especially for important instances
Have enough vets that are ready to offer good quality care
Be nicely set up. High-quality medical machines guarantee the right-time and proper of the diagnosing your Sphynx pet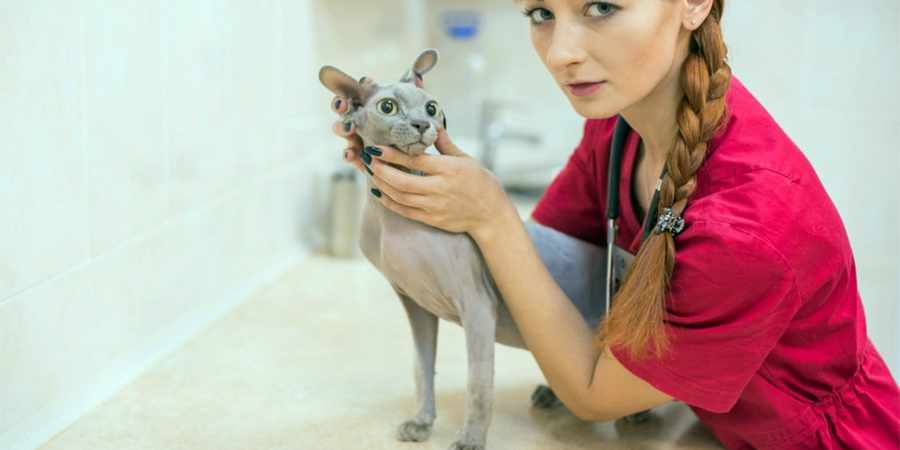 These tips will surely make your decision less difficult. Further to these general recommendations, look trough the info how to select the right veterinary for your Sphynx.
In case, you adopt a Sphynx kitten from your cattery situated in Sacramento, ask for the contact details of the veterinary surgeon who now treats your breeder's cats. The benefits are the following:
First of all, this veterinarian is already acquainted with your Sphynx kitten, and it is always advantageous.
The second thing is, the Sphynx cat breeder will entrust the cats to a high-quality veterinary solely.
Thirdly, the Sphynx cat breeder can recommend an excellent veterinarian center near you.
Therefore, adopting a Sphynx, you may be prepared for the check out to a veterinarian hospital in the area.
Location is important
If you live in Sacramento, try to decide for your Sphynx a veterinary clinic near you. This kind of selection helps you to save the necessary time in an emergency as well as lessen the delivery stress.
During the day or around the clock?
The ability to contact a veterinary hospital anytime is important, specifically in emergency cases when a Sphynx all of a sudden gets ill. Most modern vet hospitals are open 24 hours or open late to give after-hours urgent care, as we indicated within our vet record. Many of them take pets on weekends and holidays.
How to proceed in urgent instances
If you don't have a way to visit your permanent veterinary clinic for urgent situation aid, find another one as soon as you can.
Decide on a seek animal right away to the vet clinic in Sacramento, which can supply emergency aid right now. Remember that there are few really dangerous circumstances for your pet.
Business name
Hillsdale Animal Hospital
City
Sacramento
ZIP
95842
Addr
5222 Hillsdale Blvd Ste 5 Sacramento, CA 95842
Phone
(916) 349-1113
Hours

Mon 8:00 am – 6:00 pm
Tue 8:00 am – 6:00 pm
Wed 8:00 am – 6:00 pm
Thu 8:00 am – 6:00 pm
Fri 8:00 am – 6:00 pm
Sat 8:00 am – 4:00 pm
Sun Closed

Web site
hillsdaleveterinarian.com
Self Description
veterinary medicine
15 Sphynx cat disasters, that require instant veterinary consultation and/or care:
Out of control hemorrhaging or bleeding which doesn't cease within 5 minutes
Modifications in breathing, breathlessness or constant coughing and/or gagging
Lack of ability to pee or pass feces (stool)
Blood in urine/stool
Just about any injuries to your cat's eye(s) or surprising loss of sight
Ingestion of something toxic
Lack of stability or seizures
Incapability to move
Fractured bones or significant lameness
Severe anxiety and panic
Heatstroke
Unrestrained throwing up or diarrhea (greater than two attacks in 24 hours)
Rejection to drink or eat for 24 hours or more
Unconsciousness/coma
Infiltrating injuries, deep lacerations or punctures
Additional instances assist you to schedule your visit to the veterinarian clinic essentially without a hurry.