Seeking a vet center for your Sphynx cat in Phoenix? Before searching for a veterinary clinic, you should determine key choice specifications. The right veterinary medical center must match some significant requirements described hereinafter
What are the Key Signs of the right veterinarian clinic
A befitting veterinarian clinic must:
Locate not too far from your house, within a 10-30 minutes drive
Be open 24 hours or open late, also for critical situations
Have adequate staff that is ready to supply premium quality care
Be properly prepared. High-quality medical gear will guarantee the right-time and proper of the diagnosis of your Sphynx pet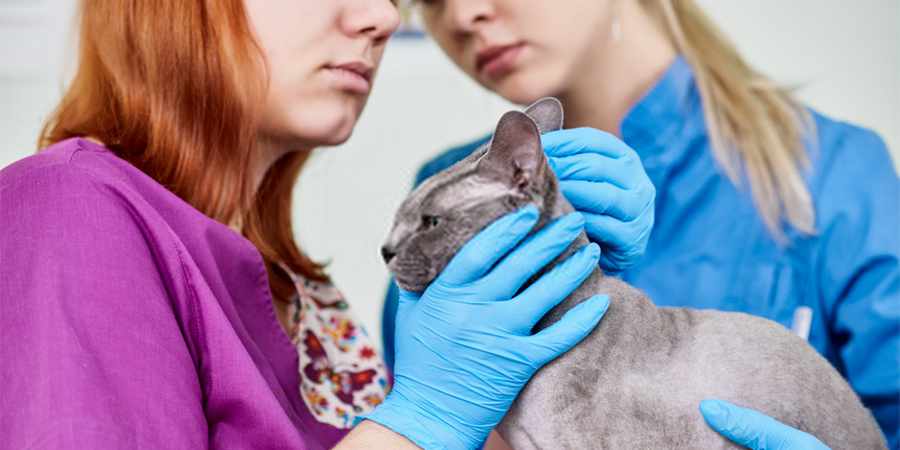 These bits of advice can undoubtedly make your option less complicated. In addition to these general recommendations, pay attention to the article how to select the best vet for your Sphynx.
If you embrace a Sphynx kitten from the cattery based in Phoenix, demand the contacts of the vet who currently treats your breeder's cats. The advantages are the following:
To start with, this veterinarian is already familiar with your Sphynx kitten, which is always advantageous.
Second of all, the Sphynx breeder will hand over the cats to a reputable veterinary solely.
Besides, the breeder can recommend a good veterinary clinic in your town.
Consequently, adopting a Sphynx, you will end up ready for the check out to a veterinary clinic close to you.
Location makes a difference
If you reside in Phoenix, make an effort to choose for your Sphynx a vet clinic close to you. This type of selection will save the necessary time in an urgent situation as well as lessen the delivery headache.
Throughout the day or around the clock?
The chance to contact a veterinary hospital at any time is essential, particularly in emergency circumstances when a Sphynx all of a sudden becomes sick. Most advanced vet clinics are available 24 hours or take until late to give after-hours immediate treatment, as you can see in our vet checklist. Many of them are open on week-ends and holidays.
How to proceed in immediate instances
If you don't have an opportunity to go to your permanent veterinarian clinic for emergency help, find a different one as quickly as you are able to.
Go with a seek animal promptly to the vet clinic in Phoenix, that may supply emergency help right now. Keep in mind that there are hardly any really dangerous cases for your pet.
Business name
Arcadia Animal Clinic
City
Phoenix
ZIP
85018
Addr
3941 E Meadowbrook Ave Phoenix, AZ 85018
Phone
(602) 955-0410
Hours

Mon 8:00 am – 6:00 pm
Tue 8:00 am – 6:00 pm
Wed 8:00 am – 6:00 pm
Thu 8:00 am – 6:00 pm
Fri 8:00 am – 6:00 pm
Sat 8:00 am – 12:00 pm
Sun Closed

Web site
Self Description
Services Offered Include: Routine/Preventative Healthcare Ultrasound Dental Hygiene and Oral Surgery Orthopedic Surgery Geriatric Care ….And More!
15 Sphynx cat emergencies, that need quick veterinary consultation and/or treatment:
Uncontrolled blood loss or bleeding that does not stop within five minutes
Alterations in breathing, difficulty breathing or constant coughing and/or gagging
Inability to urinate or pass feces (stool)
Blood in urine/stool
Just about any injuries to your Sphynx cat's eye(s) or unexpected loss of sight
Ingestion of something dangerous
Lack of stability or convulsions
Lack of ability to move
Fractured bones or significant lameness
Intense panic and acute anxiety
Heatstroke
Out of control vomiting or looseness of the bowels (greater than two attacks in 24 hours)
Refusal to consume or feed on for 24 hours or more
Unconsciousness/coma
Infiltrating injuries, heavy lacerations or holes
Some other cases permit you to schedule your trip to the veterinary hospital essentially without a hurry.