Trying to find a vet medical center for your Sphynx in Las Vegas? Previous to searching for a vet, you must discover key range prerequisites. The right veterinarian medical center need to fit some essential conditions described hereinafter
What are the Key Features of the good vet clinic
A befitting vet medical center ought to:
Locate not too far from your residence, within a 10-30 minutes drive
Be open 24 hours or take until late, also for immediate situations
Have enough staff that is able to offer high-quality care
Be properly set up. High-quality medical equipment assures the right-time and proper of the diagnosing your Sphynx cat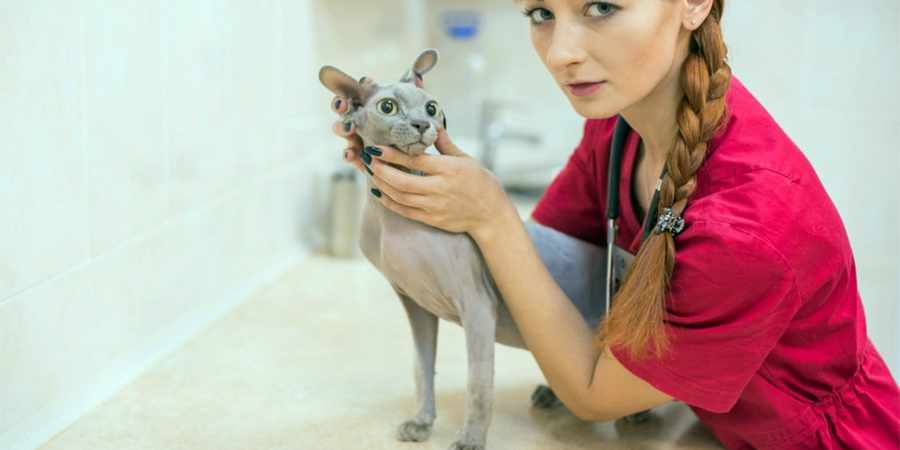 These bits of advice can absolutely make your choice simpler. In addition to these common tips, look trough the info how to choose the best vet for a Sphynx Cat.
Should you embrace a Sphynx kitten at a cattery situated in Las Vegas, request the contacts of the vet who presently takes care of your breeder's cats. The advantages are the following:
Firstly, this vet is definitely familiar with your Sphynx kitten, which is always beneficial.
Next, the Sphynx breeder can hand over the cats to a reputable vet solely.
Besides, the breeder can suggest an effective veterinarian clinic near you.
Consequently, having adopted a Sphynx, you'll be ready for the visit to a veterinary clinic in your town.
Location matters
If you live in Las Vegas, try to choose for your Sphynx a veterinarian clinic near you. This kind of selection will save you the required time in an emergency and also reduce the delivery hassle.
In the daytime or around the clock?
The opportunity to speak to a vet hospital anytime is necessary, specifically in emergency instances when a Sphynx cat instantly gets in poor health. Most advanced vet hospitals are available 24 hours or take until late to provide after-hours urgent care, as we indicated within our vet list. Most of them take pets on Saturdays and Sundays and holidays.
How to handle it in critical instances
If you do not possess a chance to visit your permanent veterinary clinic for unexpected help, find a different one as quickly as you are able to.
Choose a seek animal promptly to the vet clinic in Las Vegas, which may offer emergency help right this moment. Understand that there are few really dangerous cases for your Sphynx cat.
Business name
VCA Mountain Vista Animal Hospital
City
Las Vegas
ZIP
89121
Addr
4675 E Flamingo Rd Las Vegas, NV 89121
Phone
(702) 970-4624
Hours

Mon 7:00 am – 7:00 pm
Tue 7:00 am – 7:00 pm
Wed 7:00 am – 7:00 pm
Thu 7:00 am – 7:00 pm
Fri 7:00 am – 7:00 pm
Sat 8:00 am – 5:00 pm
Sun 9:00 am – 3:00 pm

Web site
vcahospitals.com/mountain-vis
Self Description
VCA Mountain Vista Animal Hospital is a full service animal hospital serving cats, dogs, exotics, pocket pets, rabbits, reptiles, ferrets in Las Vegas, Henderson, Boulder City, North
15 Sphynx cat problems, that require instant veterinary assessment and/or treatment:
Out of control blood loss or bleeding which doesn't stop within a few minutes
Changes in breathing, difficulty breathing or nonstop coughing and/or gagging
Inability to urinate or pass feces (stool)
Blood in urine/stool
Just about any injuries to your cat's eye(s) or quick loss of sight
Ingestion of anything harmful
Loss of stability or convulsions
Lack of ability to move
Cracked bone fragments or significant lameness
Severe anxiety and panic
Heatstroke
Unrestrained vomiting or looseness of the bowels (more than two attacks in 24 hours)
Refusal to drink or eat for 24 hours or more
Unconsciousness/coma
Penetrating wounds, heavy lacerations or holes
Various other cases allow you to schedule your visit to the vet hospital essentially with no hurry.